Judgement day is upon us. If you missed the Champions League quarterfinal draw, what have you even been doing with your life? Okay fair enough, probably something productive, but strap in because this quarterfinal draw was a doozy.
Match-up: Dortmund v. Monaco
At first glance, most people would look at the four match-ups that were drawn and have the barely even feign interest at this game (because look, Juve vs. Barca, and Real v. Bayern! In the quarters? Is this real life?). Those people, however, are peasants. Look, we already know we're getting two powerhouse match-ups from those other games, because those are arguably the four best teams in the entire world, but whatever you do, do not sleep on this match-up as it's bound to be a barn burner.
What To Watch For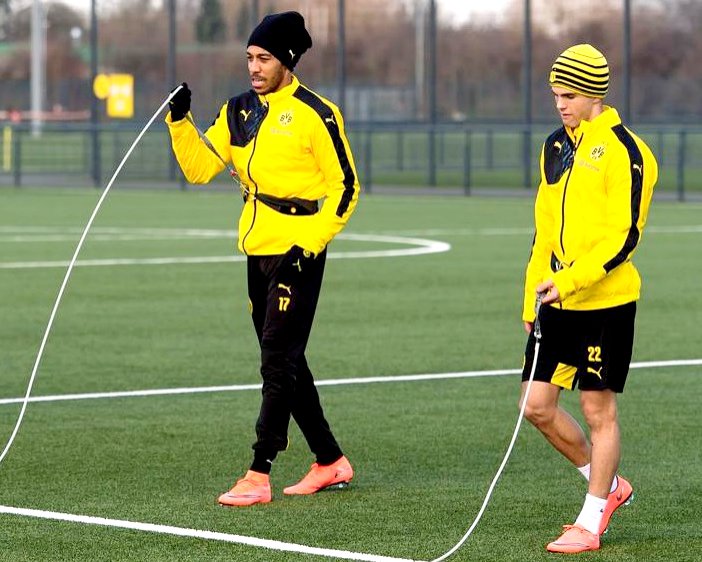 Dortmund currently sit 4th in the German Bundesliga as they deal with a slew of injuries. Two player who are not injured, however, are Pierre-Emerick Aubameyang and young US phenom Christian Pulisic. Aubameyang is on a tear this season, scoring 25 goals in Dortmund's 26 domestic league games, as well as scoring 7 goals in 7 matches so far in this Champions League campaign. Expect at least one goal to be fed into Aubameyang from Pulisic in front of their home crowd.
Prediction
As much as I'd love to see US Soccer's youngest superstar make an appearance in a Champions League semi-final, I think Monaco's current form is just too good and Dortmund has too many key players out injured. 3-2 Monaco, and those 3 away goals will force Dortmund to have to win outright in the 2nd leg if they want to advance.
---
Match-Up: Juventus v. Barcelona
Simply put, this is a battle of the juggernauts. For this Barcelona team, a domestic title is quickly slipping away (Real Madrid hold a 3 point lead with an extra game left over Barca) with only a handful of games remaining in the season. For Juventus, they're on pace to win their 6th Serie A league title in a row. Both teams are far too talented to play the "Well, we've got a better shot at winning [insert competition here] so let's focus our best efforts there", but one has to wonder if Luis Enrique's Barcelona squad will come out with a little extra fire to try and secure at least one important cup title for the team, as well as their fans.
What To Watch For
On opposite sides of the ball will be Argentina compatriots Gonzalo Higuain and Lionel Messi. There's absolutely no argument as to which of the two is better, but they both come into this fixture as 20+ goalscorers this season. Anyone who's ever played a semi-serious sport knows that if your best friend is on the other team you throw on a fake smile actually give more rage-fueled effort than you've ever given in your life because there's no way you're going to let that chicken fucker beat you and have bragging rights until the end of time. Hopefully both players can grace us with some magical goals in what should be a pretty interesting fixture.
Prediction
It would have been silly to try and analyze the intricacies of this match-up. What would be even sillier is trying to that same thing after Barcelona's historic comeback in the last round against PSG, a comeback which saw them score three goals in the final 2 minutes + injury time. Juventus is the home team in this 1st leg, so if Barcelona comes out flat like they did in the 1st leg against PSG, Juventus should have no problem building a lead. If Barcelona comes to play, a 2-2 draw seems appropriate. Which Barca will we get?